http://www.youtube.com/watch?v=K3qcHD1990A
This past week while the MLB All Star Game was taking place, there was another all star game going on at Minute Maid Park. Houston resident and baseball star Roger Clemens hosted the Rocket Man Celebrity Slam softball game, which raised funds for his charities, including the Roger Clemens Foundation, as well as other military and children's charities.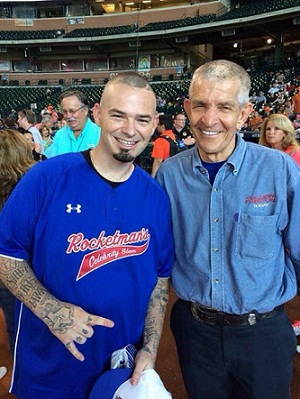 The game in Downtown Houston featured plenty of beloved sports stars from Houston's professional sports teams. The lineup included Astros' stars Jeff Bagwell and Roy Oswalt, Tracy McGrady and Patrick Beverley from the Rockets, former Dynamo forward Brian Ching, and country singer Toby Keith. It was also great see other iconic Houston celebrities come out and attend in support, like Jim "Mattress Mack" McIngvale of Gallery Furniture and rapper Paul Wall, seen above.
While the event was taking place, the MLB All-Star was playing on the big screen so everyone could watch their favorite big leaguer's including Houston Astros second baseman Jose Altuve. The proceeds are on their way to benefit many organizations that impact so many lives and we are glad that everyone had such a great time! Did you get a chance to attend the game?