Volunteering is a great way to donate your time, help your community and create relationships, yet volunteer rates in the United States are declining, according to The Bureau of Labor Statistics. Some say this is because people are focusing on getting and maintaining their paid work, but community involvement isn't something you should put off until you "have the time." You can easily get involved right here in Houston.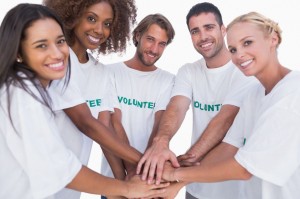 Here are some easy ways to get involved:
Visit Volunteer Houston
VolunteerHouston.org has been Houston's volunteer referral service for the last 41 years. Nonprofit organizations all around the city rely on Volunteer Houston to connect them with volunteers who are ready and willing to serve the community. You can find a variety of opportunities including regular positions as well as days of service and disaster response.
Find a local branch of your favorite organization
Houston Humane Society – Use your passion for animals to help out in the Houston area. Whether you want to better the lives of homeless animals or raise awareness about animal abuse, the Houston Humane Society could use your help.
Salvation Army – From playing bingo with seniors to teaching a basic computer skills class, The Salvation Army Houston is always looking for volunteers. Let them help you discover the joy of giving back!
YMCA of Greater Houston – Help the YMCA give back to the community by taking an active role to bring about meaningful change. Coach a sports team, help with a fundraiser, or lend a hand to community members looking to live a healthier life.
Volunteering is not only good for the people you serve, but it also helps you establish strong relationships, strengthen your career and lead an all-around healthier life. Check out some of these opportunities and you'll see the benefits in no time.